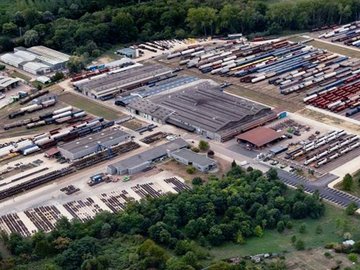 Ateliers de Joigny
Specialising in the inspection, overhaul and repair of wagons and railway components, Ateliers de Joigny takes care of axles, bogies, traction devices and braking systems, and designs as well as manufactures rolling stock.
Founded in 1968, Ateliers de Joigny has been a major player in the maintenance sector of the railway industry for more than 50 years. From the very beginning, our company offered inspection, overhaul and repair services for all types of freight wagons. With the trust and support of our customers, we subsequently developed our wagon design, manufacture and conversion activities, as well as axle maintenance. Our values center on safety, quality, and reliability, and are brought to life by our highly qualified and experienced staff.
Ateliers de Joigny enjoys an excellent reputation among European railway operators, not only because of the quality of its services, its technical know-how and its use of modern technologies, but also its constant efforts to adapt to changes in European laws and regulations on the maintenance of railway equipment. For these reasons, we are the preferred provider for the manufacture, repair and maintenance of railway rolling stock.