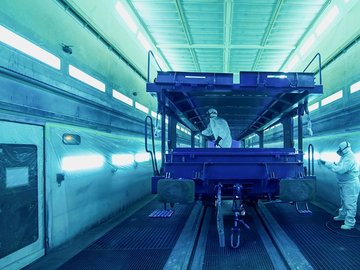 Services
At Ateliers de Joigny, we are taking care of your freight wagons whether it is maintenance, repair or the construction of new rail cars.
You are looking for a reliable and experienced partner for your wagon fleet? Well, look no further: We have been experts in freight wagons since 1968. With our many years of experience in the field of maintenance and repair of rail vehicles, we offer our customers the highest level of quality, cooperation and on-time delivery.
Our technical service for freight wagons ranges from main inspections and overhauls to maintenance and repair work. Also on offer: our mobile maintenance team. It comes to your freight wagons on site 24/7 to save you time and money.
Service portfolio
The general inspection, overhaul and repair work requires a heavy infrastructure dedicated to railroad technologies, and is carried out in a workshop, that in particular includes a 12-track rail set as well as numerous overhead cranes and lifting columns. In addition, this workshop has specific equipment for inspecting the bearing, braking and suspension devices, while bogies can be handled in series thanks to specially designed tools.
Ateliers de Joigny also carries out repair and maintenance work on the tanks of hazardous goods freight wagons. This service covers the performance of hydraulic tests, leak tests and interior and exterior inspections.
Apart from tank work, the company also performs inspections, overhauls and repairs on peripheral equipment such as:
Foot valves
Lateral valves
Gates
Interior coatings
Thermal Insulation
Heaters, etc.
Ateliers de Joigny has had its own design office since 1992 and offers tailor-made solutions in the field of design and conversion of rail freight rolling stock and rail works. A qualified team of technicians, with its experience and expertise, has access to the latest software for computer-aided design and calculation with finite elements (CREO 8). We provide everything to give a satisfactory response to all our clients' requests.
Listening to the client and respecting the specifications is very important to us. We therefore pay attention to directing all our studies and approaches towards a single objective: satisfying our clients' needs while respecting the standards in force. In the field of construction and reconstruction, Ateliers de Joigny demonstrates its ability to meet the most complex challenges on a daily basis.
Here are some of our achievements:
Construction of double-decker wagons for automobiles
Modification of hopper cars into electric or hydraulic radio-controlled ballast tanks
Conversion of container cars into 324-meter long welded rail (LRS) transport trains
Design and manufacture of ferries
Design and manufacture of special wagons (measuring wagons, crane wagons, workshop wagons, gondola wagons ...)
Ateliers de Joigny is one of the first private companies in France to set up a workshop entirely dedicated to the maintenance and repair of wheelsets. We offer standard inspections/overhauls and repairs for all types of axles. The team we have is a group of highly qualified specialists. The company handles about 7,000 axles per year in accordance with European maintenance regulations.
Ateliers de Joigny is therefore perfectly proficient in all major axle repair and maintenance operations:
Disassembly/Removal/Reassembly of axle boxes
Reprofiling of wheels
Non-destructive inspections (ultrasonic and magnetic particle)
Inspection of bearings
Shot blasting/painting
Shot blasting and painting takes place in a building specially equipped for this purpose.
Since 2007, painting operations have been carried out in a state-of-the art paint booth with a jet drying sytem. Our paint booth is designed for wagons of all sizes and allows the use of environmentally friendly, solvent-free paints that are also safe for the workers.
For tank cars, regardless of the products transported (gas, chemicals, hydrocarbons, foodstuffs), we offer customised services:
Degassing
Interior cleaning
External cleaning
Nitrogen charging of the tanks
For wagon degassing and cleaning activities, we have a modern infrastructure adapted to the respective product family, i.e.:
A flare device to eliminate residual gaseous products present in tank cars (It should be noted that, since 2010, this treatment has been carried out with a fully automated system that works exclusively with nitrogen in order to conserve the water reserves in our immediate environment.)
An entirely new cleaning station for chemical and oil wagons (A treatment station specifically designed for the tipping unloading of wagons with powdery products and the inspection of their pneumatic unloading systems.)
We provide mobile teams to carry out all types of preventive and curative maintenance work at customer sites throughout France.
Types of our mobile assignments:
Assessment of wagons/axles and replacement of axles
Preventive maintenance of trains
Inspection of infrastructure/superstructure of incoming and outgoing wagons
Repair by welding and touching up paint and lettering
Brake repair and complete brake test with MTI, SIMEF, PDR5 brake equipment
Brake test on train with MTR device
Maintenance of locotractors, construction machines and work wagons
Washing of tank wagons and tank containers
Loading of wagons
Railway traction on private site (locotractors of your supply)
Responsiveness and speed of mobile service are as crucial as ever and we are committed to ensuring that the safety of staff, infrastructure and equipment remains our priority.